PlantStudio
Try it
Buy it
Info
Introduction
Features
Screen shots
Samples
Users say
Reviews
More info
Requirements
License
Help system
History
Support
FAQ
Versions FAQ
Tech support
Feedback
Wish list
Survey
Community
Gallery
Exchange
Mini-tutorials
Links
Link buttons
Mailing list
Newsgroups
PlantStudio User Mini-tutorials

These are mini-tutorials for using PlantStudio (or for using PlantStudio plants in other programs) submitted by PS users for PS users. If you figure out how to do something interesting with PlantStudio, send us your mini-tutorial and we'll post it here.
How to Use PlantStudio Plants in Poser3/4
Frédéric Malmartel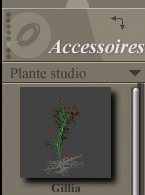 When you import DXF plants from PlantStudio to Poser3/4, if you use simply Import with the DXF function of Poser3/4, the plant will be imported with only one layer. So you'll be able to give it only one color, even if you've saved it with the function "place each type of plant part in its own layer" in PlantStudio! You won't be able to make yellow flowers with green leaves! What a pity! It's a problem with Poser3/4, it's not specific to PlantStudio.

So as a solution, you just need RayDream Studio5. ( You need the 3ds plug-in of RayDream, if you don't have it It's available on http://www.metacreations.com )
Create your plant in PlantStudio, and export it in DXF format, with the option "place each type of plant part in its own layer." for instance save the plant gillia under "gillia.dxf"
Open RayDream5 and import your dxf plant inside for instance import "gillia.dxf" inside
Save all your RayDream scene with "save as...rds" option and... close RayDream! for instance save your scene as "gillia.rds"
Open RayDream5 again! and import the rds scene you've just saved before for instance import "gillia.rds" ( On the "Animation Window" you must read twice the word "Universe" ! )
Save ( not export but save! ) all your RayDream scene with "save as...3ds" option for instance save all the scene as "gillia.3ds"
You're able to open your 3ds file in Poser3/4 and paint it in Poser. for instance import "gillia.3ds" in Poser.
back to top
How to Make a Wreath in PlantStudio
Cynthia Kurtz
To create a wreath in PlantStudio,
First, generate a circular plant. To do this, breed any long skinny plant with no branching with breeding variation set to high. Eventually you will get curly plants. When you get a curly plant you like, reduce the breeding variation to medium or low and keep honing in. When you are satisfied, copy your best curly plant to the main window.
To make the wreath leafy, set the number of compound leaves to 5 or more. Play with these parameters to make the circular plant look filled in:

Internodes: Curving index for first internode
Internodes: Curving index for all internodes but first
Internodes: Length at optimal biomass
Leaves: Leaf 3D object X [Y,Z] rotation before drawing
Leaves: Angle between stem and petiole
Leaves: If compound, bend angle at start [at full size]
Leaves: Petiole length when leaf has optimal biomass

Also choose a good leaf shape (Leaves: Leaf 3D object) and scale (Leaves: Leaf 3D object scale at optimal leaf biomass) to make the plant look viney.
When your first circular plant looks good, copy it to make another circular plant just like it. Resize the second plant so that it is slightly smaller than the first plant. Now make small changes to the parameters mentioned above to make your "second layer" look like it's woven in with the first layer.
Do this one or two more times, until you get what looks like a complex wreath with intertwining leaves. Each plant should be ever-so-slightly smaller than the ones behind it, so that the whole thing looks built up. It's a good idea to vary the leaf shapes to include both rounded leaves and spiny leaves, to give a better sense of intertwining.
When you're done, save your wreath as a plant file, then copy the picture or export the plants to DXF and reassemble the wreath in your 3D program.
back to top
We make no guarantee that any of the mini-tutorials on this page work. All mini-tutorials on this page are the copyright of their respective authors and may not be used without that author's permission. Policies regarding the user mini-tutorials page are subject to change without notice.