PlantStudio Screen Shots
This picture shows the PlantStudio main window, in which you work with the plants in a plant file and create compositions.

This is the PlantStudio breeder, which creates new plants by "mutating" them from "parents". It's a lot of fun to play with, and you can get some incredible outcomes (like the snake on the gallery page). This picture shows the outcome of breeding variations on a phlox plant.

This is another view of the PlantStudio main window showing how you can change parameters on individual plants. PlantStudio uses a simulation model with over 200 parameters to encompass a wide range of herbaceous (non-woody) plants.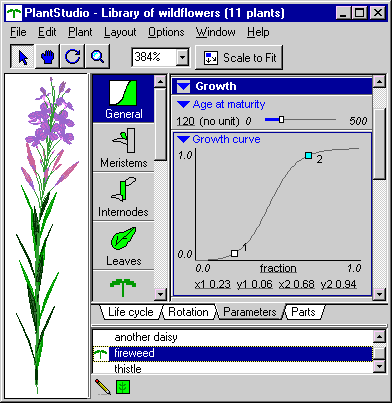 This is a page of the PlantStudio plant wizard, which guides you through creating new plants by asking you simple questions based on the most important parameters.